My birthday was last weekend. I am now 22, hence, palindrome.
My to-do-tonite looks like this:
-print pics for scrapbook
-go through dresser drawers, closet, underbed storage
-MUST POST BLOG
-pedi
Obviously, I have my priorities straight! I have been meaning to post for over a week...
The scrapbook pictures are part of a wedding gift for my sister. I'm just putting together a scrapbook of our Bachelorette Shenanigans.
My mom gave me a copy of
Apartment Therapy
for my birthday and it just added flame to the fire that is my desire to organize/clean/purge my apartment. It's hard living with four other people and three animals! A few dozen/hundred houseguests have recently departed as we're just now getting over a
serious
fruit fly infestation (thank you, Summer). And of course I am a packrat (born and raised) and, being a crafter, save way too many items "just in case". It goes against all my green-instincts, but dang it feels good to just
get rid of it
, it being books or 2x4s or old clothing.
Luckily, we have a freebie table here at work, so if I choose to let go of craft supplies or books, they will have a happy home.
My parents also graciously gifted me a new digital camera. I was previously operating with a 3.2 mp Kodak EasyShare I purchased frantically in London last summer, wanting to be certain I had enough pictures of my pilgrimage to Manchester (that's a Joy Division Pilgrimage, fyi). The irony is that my computer crashed last September and I lost nearly all of the photos I had not uploaded to Photo Bucket. Fear not: I also brought my polaroid and (gasp)
film
camera, so I have plenty of pictures left.
The birthday camera is a Nikon Coolpix camera (they seriously have to do something about the name though), complete with (the best part) a camera case!! Thanks, Mom and Dad!
For myself, I got some new booties (ebay). They are being re-soled in Virginia right now (Shoe guy to me: Re-soling is going to cost more than the shoe itself. Me: Mmhmm, yes, did you not hear me say I walk a lot
and
have a ebay boot buying problem? Thank u.), just as a pre-caution for the fearsome winter.
I also purchased a print from
Ashley G
, called
Hello September
. I really love all of Ashley G's prints, in fact I have
this one
as well. I really wanted to get the
Hello May
print, because the little birdy has my hair-do (thats the "entire head = bang" hair do), but I opted for Hello September because it's my burfday month.
My roommate Ryan got me a super cute dress from Atlantis Attic, which I tailored (although I do need to the take the sleeves in a bit more).. excuse the lame expression in this photo. My dad took it and we have differing opinions on what constitutes a proper photo expression. He wants big smiles, with teeth! I say, take another where I'm
don't
look crazy, but alas...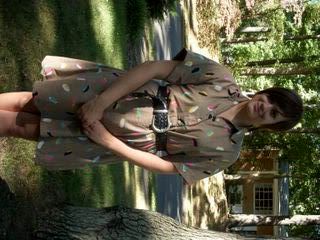 And Heather got me my first official piece of designer jewelry: a Marc Jacobs padlock watch necklace. I'm
very
excited about that.
In news of progress: I have
FINALLY
finished the Hang in there Kitty cross stitch (see:
Adorn blog
).
JESUS. THAT. TOOK. FOREVER.
Helpful hint: do not lose your embroidery floss. For real. Pictures to come later, once it's ironed
xoxox