With just me at the hull of Pommes Frites I sometimes underestimate how much I can get done in a small period of time. I couldn't sleep last night and laid awake thinking about some writing I have to do for a class I'm taking at UT, books I want to carve, shifts I accidentally picked up then realized I had to back out of, and of course, this event: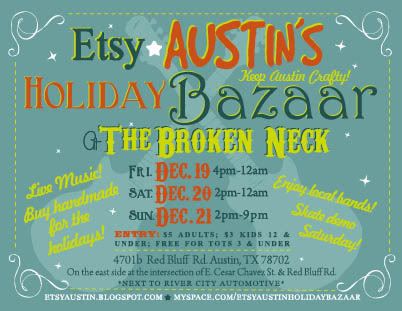 Don't forget to mark your calendars for Etsy Austin's Holiday Bazaar, Austinites! You have three full days to check out Etsy Austin vendors IRL (in real life! forgive my abbreviation). There will be live music, free beer, skate demos, and of course, tons and tons of vendors - jewelry, toys, shoes, purses - I think there might even be some succulents. Haunted Housewares and Pommes Frites will be there, and in addition to books and pins I'll also be hawking eco-friendly candles.
So when it got around to 2 am I started wondering if T would mind if I turned on the lamp and TV and carved a book for a few hours. I think it was sometime around then, after I sent out a few random emails, that I fell asleep.
Anyway, I am making some book safes tomorrow and Friday, and hopefully will get them up this weekend or early next week. I will be listing a decent amount of flask books, and also send my packages via Priority Mail, so have no fear about delivery in time for the big X.