I recently cleaned out a few not-in-use purses (read: 7) and found the following: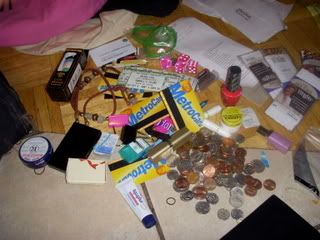 Over $7 in coins, unopened OPI nailpolish (in Cajun Shrimp), five metrocards, a set of pink dice, five packages of ric-rack trim, five lip treament things (rosebud salve, aquaphor, a stolen flirt! palette from heather), Arcade Fire ticket stubs, two $20 Starbucks cards, a paystub, and a "maid of honor" badge to name a few things. plus about a tree's worth of receipts and scribbled notes.
And remember, none of these purses have been used in over a month.
.
Speaking of purses, I just got this amazing duffel bag from
31 Corn Lane
: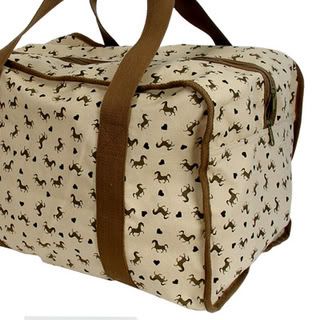 It was on sale for $25 (from $50) and it decorated with adorable all-over horse and heart print. It's also quite expansive and is replacing my weekend-er bag that I've had for the past four and half years.
I won't even get started on what's in the purse I actually use... but am thinking that's the reason my left shoulder constantly aches. What's the weirdest thing you've ever found?